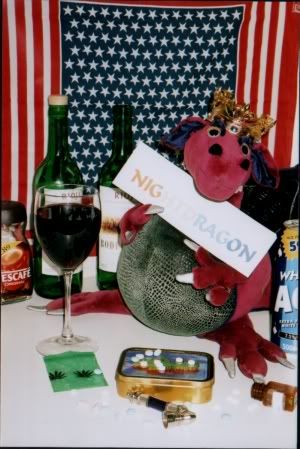 South Florida and Sugar Bush Squirrel
March 03, 2007 ~ 6:05 p.m.
Squirrel and I just got back from five days in south Florida, where we met the iconic Sugar Bush Squirrel and her owner, the equally famous Kelly Foxton.
Foxton is a former singer and entertainer who toured and cut two albums with the country star Hank Snow. She toured extensively throughout the 1980s and '90s, did gigs for American military servicemen and also entertained on cruise ships. After two decades in show business, the native Georgian retired from entertaining and now lives in Boca Raton, Florida. She shares her household not only with Sugar Bush Squirrel, but her husband Drew—a musician himself—her mother and a talkative parrot called Rio.
Kelly decided that she missed doing things for the military, so an idea similar to the pin-up shot she did for the servicemen in response to the 1983 bombing of the American barracks in Beirut crossed her mind. Instead of posing in patriotic fashion herself, she would let her young squirrel take over the duties of entertaining our boys in uniform. Images of the female Eastern Grey squirrel as an American soldier, as President George W. Bush and of an Islamic militant (undercover work in the search for Osama bin Laden) have delighted American servicemen and servicewomen alike.
Sugar Bush Squirrel has also posed as a biker, a mobster, a bee, and a kung-fu fighter, to name but just a few of the characters for which she is renowned. Sugar Bush has posed so often, in so many costumes, that she is known "the most photographed squirrel in the world." Kelly told me at one point, "I'm enjoying this even more than I did singing."
However, Kelly notes that with the fame come the detractors. Even though she occasionally receives naysayers from the Left who take offense at the patriotic, Right-leaning, pro-W.o.T nature of the Sugar Bush website, the worst abuse comes from militant, PETA-inspired animal-rights activists.
"The number of e-mails screaming 'Die, bitch, die' has calmed down over time, but I still get them," Foxton says non-chalantly. According to an article on Foxton and Sugar Bush in the June 29, 2006 edition of the Broward-Palm Beach New Times, one activist opined, "I bet that squirrel wishes he was dead." Obviously, not only do these people not know Sugar Bush's gender but have no idea how genuinely happy and well-treated she is.
"With all the horrible things that happen to animals, these people choose me and my squirrel to pick on?" Kelly says with amazement. "There are so many worse things happening. In fact, there's nothing to protest about Sugar Bush at all, because she leads a great life."
The nightdragon was there and saw for himself what a wonderful, pampered life Sugar Bush has and what an attentive, caring owner Foxton is:
The nightdragon and Kelly with Sugar Bush Squirrel.
A close-up of Sugar Bush Squirrel
Kelly and Drew showed us around Boca Raton, Palm Beach and Delray Beach and, on our last day there, took us around Miami. I loved Boca Raton, which is still pre-dominantly English-speaking, and enjoyed the first four days there—but Miami came as a bit of a shock. Not that it should have come as a big surprise, and it didn't, but I still couldn't help but be amazed at how much Spanish there was to be read on the signs and storefronts in the Miami area. I suppose it's still possible to speak only English in Miami and get by; but I'm sure it's equally possible to speak only Spanish there and live a comfortable life. Also, Miami is construction central. Every skyscraper I saw seemed to have scaffolding, cranes competed for exposure amongst the skyline and there was no end to new properties being built. There was less construction in Boston during the Big Dig. Given all this development and refurbishment, one has to wonder if Miami will ever settle down.
In closing, I would just like to say big thanks to Kelly and Drew for their warm hospitality—and Sugar Bush Squirrel for President in '08!
– M.E.M.
Copyright © 2001-2007 by M.E. Manning. All material is written by me, unless explicitly stated otherwise by use of footnotes or bylines. Do not copy or redistribute without my permission.