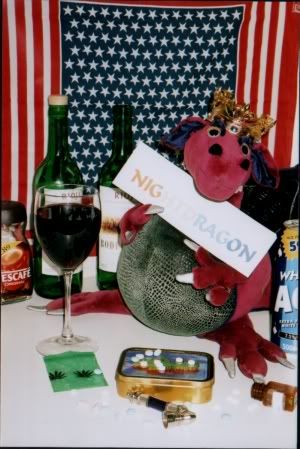 Sarkozy est l'homme! (Sarko's da man!)
May 08, 2007 ~ 9:41 a.m.
It should come as no surprise to anyone who knows me well that I backed Nicolas Sarkozy for the French presidency, and I'm jubilant about his victory on Sunday. Especially as I had previously called this one.
A year before the race for president began, I wondered, why doesn't "Sarko" go for it? He was the only person in Chirac's cabinet that seemed to have any clue as to how France was changing and how that change must be dealt with. All we ever heard from Chirac and Co. was typical Gaullist head-in-the-sand railings against "les Anglo-Saxons." Sarkozy, however, is a transatlanticist, someone who admires both Britain and the U.S. and seeks a much closer relationship with both. Sarkozy opposed the War in Iraq too, but he was determined not to let that stand in the way of what he considers a natural friendship between the U.S. and Britain, though he also vowed not to be "submissive" to the U.S. He also intends to bring greater economic liberalism to France by allowing a 40-hour week (or more), confronting the unions, and tearing down some of France's protectionist walls.
Sarko did gain some notoriety by calling the rioters during the unrest in Paris and throughout France in the fall of 2005—young deliquents with nothing better to do than cause trouble and blame it on French society—"scum." Well, Sarko is right. They are. Last month's riot at the Gare du Nord station in Paris was a disgrace. (The rioters were sticking up for a Nigerian fare-dodger who headbutted a ticket inspector when confronted.) With Sarko in charge, these thugs may just be brought under control and it's about time they were. French society, to be fair, does need to become more accommodating toward young immigrants, but it's no excuse for large-scale rioting and violence on the part of those who feel left out of the loop.

"Thanks to Sarkozy, we too became people!" OK, now, what do normal people, as opposed to knee-jerk Lefties, make of this?
Segolene Royal or "Sego," his socialist rival, looked to protect welfare benefits for layabouts and slap the thugs on the wrist. Not impressive. Royal also, typically for a Left-winger, saw Israel as an aggressor and America as a threat. Nothing would have changed if she'd been elected.
But, fortunately, that didn't happen. Sarkozy beat Royal soundly, 54%-46%.
There was still a considerably sized undecided voter base left over from the independent centrist Francois Bayrou, who had criticized Sarkozy. On the subject of Sego, Bayrou stayed quiet but refused to endorse her campaign, much to her Socialist party's bewilderment and anger. One woman, interviewed by Britain's The Guardian last month, who voted for Bayrou in the first round said, in the wake of Bayrou's third-place finish, that she planned to vote for Sarkozy, even though he "scared" her, because she did not think Royal had what it takes to be president. If that was the majority opinion among Bayrou voters, it's not surprising that Sarko hung on to his lead and won the prize that he'd worked for his entire adult life.
And France will be much better off for it.
– M.E.M.
Copyright © 2001-2007 by M.E. Manning. All material is written by me, unless explicitly stated otherwise by use of footnotes or bylines. Do not copy or redistribute without my permission.