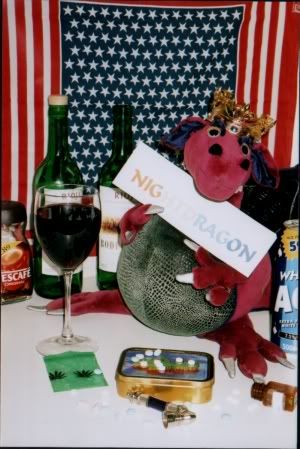 Caffeine fetish
March 11, 2004 ~ 1:53 p.m.
I make love every morning around 9:30. It's always a beautiful experience.
The beauty of my beginning-of-the-day desires used to be white, but now I prefer it black. I guess that makes me a multiculturalist.
I hold the object of my affections very close to my heart, gently cradled by my loving, careful hands. God help the unfortunate misfit who bumps me, causing her to have a spill.
I coo gently to her, telling her how much I need her, how much she means to me, especially at that particular time of the day. I often turn to her during the afternoon as well, but our morning encounters are always the most special.
Her scent drives me wild and makes my mouth water in anticipation.
I talk, of course, of coffee.
– M.E.M.
Copyright © 2001-2007 by M.E. Manning. All material is written by me, unless explicitly stated otherwise by use of footnotes or bylines. Do not copy or redistribute without my permission.